CARE Bolivia, its staff and programs are very important to
Bolivia
and its poor communities. It is one of the most highly organized, efficient NGOs (non-governmental organizations) I know. Its projects are always in need of donations and volunteers. It's an amazing organization.
The organization's mission is to serve persons and families in the poorest communities of the country. It is strengthened by its diversity, its resources and acquired experiences in Bolivia. It promotes innovative solutions and advocates global responsibility. It facilitates sustainable evolution through the following means:
• Taking advantage of economic opportunities
• Providing emergency relief
• Influencing political decisions at all levels
• Discouraging discrimination in all its manifestations
• Strengthening self-help capacities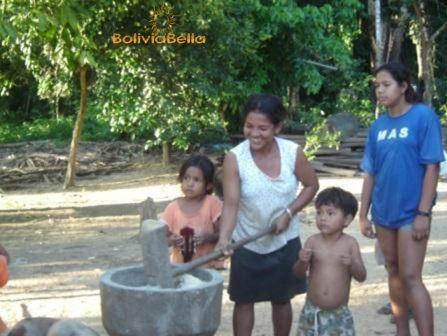 Location: Cahuelita, Department of Pando.
Photo Taken by Katherine Argote, Communications Coordinator, March 2007


CARE has been contributing and responding to priorities in Bolivia for over 31 years, focusing its work on the search for hope, tolerance and justice to ensure poverty is overcome and people are able to live with dignity and security and exercise their rights. This is achieved year after year by serving the people and families in the poorest communities of the country thanks to work done jointly with other social actors in order to make the greatest impact possible on the lives and development of the Bolivian population. CARE promotes empowerment, works in partnership with others, ensures and promotes a sense of ownership and responsibility, opposes discrimination and violence, and seeks sustainability in all project results. The organization puts into practice behaviors that are consistent with these principles with the support of, and funding from, donors and the continuous efforts of the CARE technical team.
Throughout these years of work, and with a firm commitment to Bolivia, CARE has intervened in the following areas: health, food security, education and the generation of income, natural resources, and risk prevention management. During the past few years its efforts have benefited more than 1.5 million people in the poorest rural areas of Bolivia, in 158 municipalities within each of Bolivia's 9 departments.
Currently Care Bolivia Focuses On:
EDUCATION
Bilingual intercultural education
Alternative education
Education for child laborers

HEALTH
HIV/AIDS
Sexual and reproductive health
Improvements to health care services

LOCAL ECONOMIC DEVELOPMENT
The generation of income
Innovation in technology and services
Access to markets

ENVIRONMENT
Conservation and development
Natural resource management
Climate change
Water

GOVERNABILITY AND DEMOCRACY
The exercise of rights
Local and regional citizen participation
Gender and equality
The strengthening of local and regional institutions and organizations
RISK MANAGEMENT
Disaster preparation and prevention
Emergency response
Rehabilitation

For more information visit CARE BOLIVIA
Contact Katherine Argote P. - Communications Coordinator