Los canopy tours son geniales! Puedes disfrutar un "tour" de la región y del panorama por entre medio de los grandes arboles sentado en un asiento colgando de un cable de más o menos 210 metros de longitud y a una velocidad vertiginosa, o en partes a menor velocidad.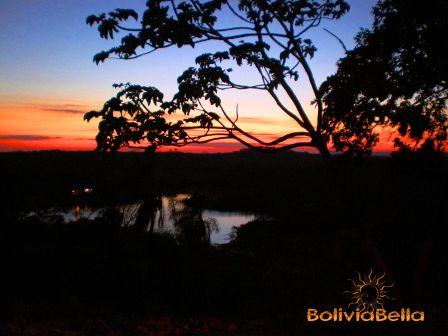 El lugar donde se desarrolla esta actividad es distante 1 hora en vehículo de la ciudad de Santa cruz. También estos paseos se pueden combinar con hikes en los senderos de la misma reserva.
English
Canopy Tours are where you swing through the trees in Bolivia's jungle on a 210-meter long cable (while strapped into a seat), sometimes at a high rate of speed and sometimes not. This activity takes place about one hour by car from the city of Santa Cruz. These trips can also include hikes through the same nature reserve.
Amboro Tours has been operating in Bolivia since 1999 and offers these tours near Santa Cruz. Click on their name to visit their website, or if you prefer, you can contact them direct by using the form below (they have excellent guides, and they know the history, flora and fauna of this area very well so enjoy a hike too. If you are looking for some serious adventure, don't miss the opportunity to swing through Bolivia's rainforest or visit any one of the other numerous destinations Amboro Tours can take you to!)

Amboro Tours ha operado en Bolivia desde 1999 y ofrece estos tours en Santa Cruz. Haz clic para visitar su página web o si prefieres, puedes comunicarte directamente con ellos utilizando el formulario que encuentras a continuación (tienen excelentes guías, y super conocedores de la historia, flora y fauna del lugar. No te pierdas la oportunidad de columpiar por una de las mejores reservas de Bolivia, o cualquiera de los destinos a cuales Amboro Tours te puede llevar!)