Hola! I'm Charis, the owner and webmaster of BoliviaBella.com. If you don't already know me, you can read more
about me
here. For the past 17 years I've been giving my birthday away, both online and off, and I'm hoping you'll want to help me do it.
It all began on a hot summer afternoon in early December of 1997 in Bolivia when two little boys rang my doorbell. They told me they were from one of the local orphanages in Santa Cruz, where I lived. One of the children was sick and the orphanage didn't have the funds to purchase the medicines he needed so they had sent the children out to beg, door to door. In addition, the electric company was about to cut off power at the orphanage because their bill hadn't been paid in over 3 months. They showed me the doctor's prescription form and the orphanage electric bill lest I think they were not being honest with me. I was so moved by these little boys, one 7 and one who didn't know his actual age but thought he might be about 10. It felt so unfair that I was about to celebrate my own birthday when these little children had nothing... and one of them didn't even know on which date he had been born...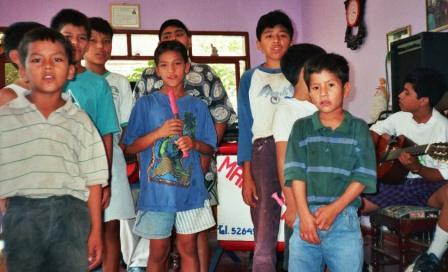 Rather than give them cash, I paid their outstanding electric bills that day, purchased the prescription they needed, and headed to the orphanage. What I found there was amazing: about 30 boys, between the ages of 4 and 18 living in a house rented and operated by a local pastor and his wife. The children, surprised by my visit, gathered to greet me and then spontaneously gave me a surprise of my own. They took out a several guitars, some flutes and a few other instruments and proceeded to serenade me with music and songs. The pastor had taught each one of those boys to play an instrument or to sing, with the older boys helping to teach the younger ones. And it was beautiful. The pastor explained to me that they didn't receive as much funding from the local government as other orphanages did, and he didn't earn enough to support 30 children, but he just couldn't turn them away. Some of the teenagers had taken part time jobs after school, and on some weekends the children gave concerts to raise funds. I left that day with an idea already forming. Christmas was only three weeks away, but my birthday is on the 12th. I couldn't give them everything they needed, but I could give away my birthday.
That year I invited several friends to my house on my birthday with a note on the invitation: "Please no gifts for me. Instead, bring a gift for a child." My friends arrived with dozens of gifts and items. On the day before Christmas, I delivered them to the orphanage. We did this for the next 8 years. Each year my "birthday party" got bigger and bigger, growing from about 20 guests the first year to over 100, at which point, a friend offered her house because mine could no longer accommodate so many people. Our giving increased too. My generous friends donated clothing, food, toys, school supplies, dishes, furniture and more. At some point we began renting a truck to deliver everything. In 2004, the children surprised us. They wanted to thank us in the only way that they could. They showed up unannounced at our "party" and gave a full concert to all my guests.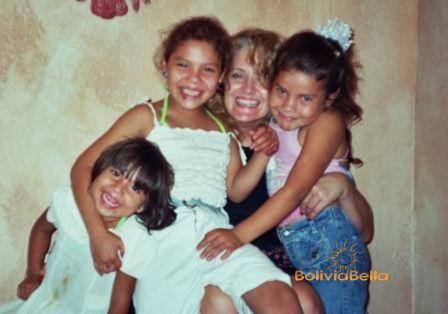 In 2005 I moved back to the U.S. where I remained for three years. Each year I looked for ways to give away my birthday, which by now had become a tradition. When I began building BoliviaBella.com in 2007, I took my "birthday giveaway" online. One year you, my website visitors, helped me donate dozens of soccer balls to a local soccer academy that helps keep children off the streets and out of trouble. Another year we all voted for a volunteering initiative that was competing to win funding from Google. The following year we all sent in photos of our eyes to an environmental initiative that was trying to send a strong "we'll be watching you" message to a foreign government. It just grew and grew! I began to receive messages from both friends and complete strangers: "I am now giving away my birthday each year too." It's easy to do. You simply choose a way in which you would like to help someone else and ask your friends and family to give to them rather than giving to you.
6 ways I'm hoping you'll help me
give my birthday away today:
My birthday happens to fall on a date very close to Christmas, a time of year when people are putting a lot of effort and thought into gifts and giving. Please consider your gift giving choices this year and take a little time to reflect upon the millions of people all over the world who are in greater need than yourself. And if you feel motivated to give just a little, maybe even to someone you don't know... please consider helping me give away my birthday in some of the following ways. Mahatma Gandhi said:
"The best way to find yourself is to lose yourself in the service of others."
1) WANIDES is the Association of Washingtonians for Needy Bolivian Children. Founded by my aunt and some of her Bolivian friends, Wanides raises funds to help improve quality of life for Bolivian children by holding fundraising events in the Washington D.C. area. Funds are also donated to help hospitals and clinics in Bolivia purchase equipment and other supplies. If you'd like to help Bolivian families living in poverty, you can make a donation. As an alternative, I have pledged to donate 10% of sales made through my own jewelry company, Charisma Bolivia. Give when you shop online for one-of-a-kind, handmade jewelry. Just write the word WANIDES in the "Note to Charisma" box at checkout, and I will donate 10% of your purchase.


2) OPERATION SMILE is an international medical charity that provides surgeries free of charge for children born with cleft lip and cleft palate. Volunteer surgeons have provided over 200,000 surgeries in more than 60 countries. One of these countries is Bolivia, where parents often would never be able to afford this type of surgery. Cleft lip and cleft palate can prevent children from being able to eat or drink properly and 1 in 10 children with a cleft die before their first birthday in places like Bolivia where surgeries are unaffordable or unavailable. Operation Smile medical missions visit Bolivia at least once a year. I've worked previously as a volunteer translator and I donate to Operation Smile as a thank you for the operations performed on my godchild, Natali who is now a healthy 10-year old, and other children I love. You can help return a beautiful smile to a child as well. The next mission will take place in Santa Cruz, Bolivia in March of 2014.


3) THE INTERNATIONAL WOMEN'S CLUB of Santa Cruz, Bolivia is a non-profit organization founded by foreign women who live in Bolivia. The IWC holds events throughout the year to raise funds which these beautiful ladies with beautiful hearts later donate to local orphanages in Santa Cruz. Sadly, adoptions are not common in Bolivia and, due to human trafficking concerns in the region, the government has also restricted international adoptions. As a result, many of the children in our local orphanages may never be adopted. With sufficient funding, the children may have a chance to get an education and learn the skills they will need to support themselves. If you'd like to help, contact me and I'll put you in touch.


4) VETERANS OF FOREIGN WARS is a non-profit organization in the U.S. that helps veterans, military personnel currently serving, and their families. You can contribute to our military families too. Having lived overseas and far from family most of my life, I make donations to Operation Uplink so that deployed personnel can stay in touch with their families, which is especially important during holidays. I also donate to the Unmet Needs program which helps to meet the critical needs of service members and their families who experience a sudden financial hardship. There are others to choose from. If you're not American, your country may have similar military family support programs.


5) KIVA is a website where you can make an interest-free loan to help individuals or families fund a small business, pay for their education, or complete a project. You can loan as little as $25 to begin with. And when that loan is repaid, you can re-loan it to someone else! You can also give a Kiva Card to someone as a gift and they get to decide who to fund with the amount on the card. Over 380 million loans totaling over half a billion dollars have been made through Kiva in more than 70 countries, with a 99% repayment rate to date. I've made several loans as a way to give my birthday to someone else. View my Kiva profile to see who I chose to help and decide if you'd like to help them or others, reach their goals.


6) NOVICA
offers unique handmade gifts from all over the world. You can help an artisan improve their living conditions by purchasing their items. Plus, Kiva and Novica have partnered so we can all make loans to Novica artisans. So shop to find gifts
from artisans who've received a Kiva loan or make artisan loans yourself to help others grow their businesses. The artisan loans I've made have been paid back in full and I'm now ready to re-loan the same money to others. Novica also has an option to donate into a general fund used to help artisans in a specific world region, which is something I've also done. Click here to view my Novica profile. You can create your own profile too.
Or do it your own way!
If you are unable to give to someone else at this time, or if none of these ways to give appeals to you, you might consider looking into crowdfunding. If you prefer to choose how you give or who you give to, Forbes has a list of the top 10 crowdfunding websites through which you can donate or make loans to help someone else. Or maybe you can consider giving your own birthday away sometime! Charis.
"I must be willing to give whatever it takes to do good to others. This requires that I be willing to give until it hurts. Otherwise, there is no true love in me, and I bring injustice, not peace, to those around me."
Mother Teresa