The Beni Hotel in Trinidad, Beni - Bolivia

Beni Home &nbsp Trinidad &nbsp Rurre &nbsp Map &nbsp Forum &nbsp Tours &nbsp Hotels &nbsp Info &nbsp Plan Your Trip

Use the links above and below to view all pages related to Beni

Custom Search


The Beni Hotel in Trinidad (capital of the northern state of Beni in Bolivia) is a small family-owned and operated hotel located ½ block from the city's main plaza. The owners are Ranfis Balderrama and his wife Tita Luz Suárez, who have lived in Trinidad for many years. They've seen the city grow from a small town to a city of about 220,000 and have experienced all its changes and growth.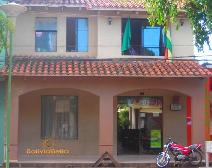 Located on Avenida 6 de Agosto #68, the hotel has 20 rooms. Eighteen of these have 2 beds, one has 3 beds and one has 1 double bed. All have cable TV, their own baths, telephones and fans. Seven have air conditioning. The price you pay will depend on whether or not you choose an air-conditioned room. No meals are served at the hotel, which functions as a rooming house. But there is a cold/hot distilled water cooler and coffee available all day long (just ask for a cup) and a dining area with two tables so you're welcome to order in or purchase your food elsewhere and enjoy it at the hotel. Because of it's proximity to the central plaza, there are numerous restaurants and stores nearby. There is also an internet café next door and another down the street.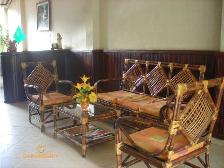 The owners are very hospitable and friendly. They run the hotel as a family inn and treat you like family too. They'll provide anything you can need as long as it is within their possibilities. There is no garage but plenty of parking available on the street. Trinidad is known as the city of motorcycles, this being the preferred mode of transportation, so most taxis are moto-taxis. However, there are cars that function as taxis in the city. At the Beni Hotel you're close to everything including the plaza, the main cathedral, the city's awesome museums, shopping, good eats, and more.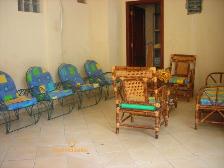 Because the owners have lived in Trinidad for many years they know where almost everything is and can give you directions to just about anywhere. Chances are they know someone there too. I needed a bus back to Santa Cruz and the owner had the bus line reserve my seats (bus lines don't usually reserve seats). Señora Tita (and her cool sister Nancy who traveled back to Santa Cruz on the bus with me) did everything possible to make our stay very comfortable. It's very clean and staff is friendly.
We were also warmly welcomed by Lorenzo the Loro (the hotel's resident parrot) who promptly screamed "Hola! Como te llamas?" (hello, what's your name) as soon as we walked in. Lorenzo is quite intelligent! He sings several songs, recites poetry, can count to four, and has a pretty extensive vocabulary. He kept us entertained during short breaks. In all our stay at the Beni Hotel was very pleasant. If you're looking for the basics and a good price, it's a good option.


Meet Lorenzo the Resident Parrot
Contact the Beni Hotel for Reservations
HOTEL BENI
Sra. Tita Luz Suárez
Avenida 6 de Agosto #68
Trinidad, Beni, Bolivia
Tel: (591-3) 462-2788 or 462-0522
Fax: (591-3) 462-0262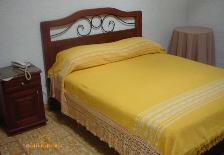 Pricing: (No credit cards)

Habitación simple con ventilador
(single room with fan): Bs. 130 / night

Habitación simple con aire
(single room with air conditioning): Bs. 230 / night

Habitación doble con ventilador
(double room with fan): Bs. 170 / night

Habitación doble con aire
(double room with air conditioning): Bs. 270 / night

Habitación familiar
(the family-sized room with 3 beds): Bs. 300 / night


To include a stay at the Beni Hotel as part of a tour package contact Moxos Tours.


Beni Home &nbsp Trinidad &nbsp Rurre &nbsp Map &nbsp Forum &nbsp Tours &nbsp Hotels &nbsp Info &nbsp Plan Your Trip

Return from the Beni Hotel to Tourism Home Page &nbsp&nbsp Bolivia Hotels Home Page