The Center for Artificial Limbs (Centro de Miembros Artificiales) is a La Paz San Pedro Rotary Club initiative that offers several exciting volunteer positions in La Paz, Bolivia depending on your qualifications, available duration and desires. At this time, the need for volunteers is very urgent.
In general we are looking for:
o Certified Prosthetist Orthopedist (CPO)
o Technology researcher
o Local and International Fund raiser
o Office manager/assistant
o Workshop assistant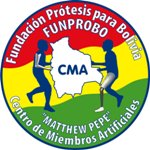 EXPERIENCE
: Other than the CPO position none of the other volunteer opportunities require any previous experience. You only need to have the desire to do a good job and be an organized, self-motivating reliable person who does not mind taking charge when needed and has good follow-through skills. Being fairly capable in Spanish is also highly helpful but you will also be able to work with some English-speaking volunteers at the artificial limbs clinic who will be able to help handle more complicated situations if you so desire.
HOURS: Your hours at the Center for Artificial Limbs will be determined by your position and what exactly you are working on any given day. These hours will typically range anywhere from 1 hour per day and up to 8 hours, 5 to 7 days a week. Note that volunteering extended hours and days will be up to you and not required, nor expected, of you.
COMMITMENT DURATION: We offer short, medium and long term positions with a specific duration listed with each position. Due to the semi-complex nature of most volunteer positions, it is beneficial to the patients and artificial limbs clinic if you can stay as long as possible.
FEES AND EXPENSES: There is of course no fee to volunteer in Bolivia for these positions but in general you will be expected to pay your own travel and daily expenses for food, lodging and transportation. Note that this general statement can be negotiable depending on your experience, position, abilities and commitment level. Bolivia is a VERY inexpensive country and daily expenses usually range from $15-$40 / day depending on your desired lifestyle and comfort level.
APPLICATION: The volunteer application process is very informal -- simply send us an e-mail (in English or Spanish) and we will discuss where you can fit in. Use the secure online form to contact us below.