Amboro Tours en Santa Cruz, Bolivia te brinda una de las mejores ofertas turísticas en Bolivia. Este operador de turismo boliviano ofrece tours a muchos de los típicos destinos de Bolivia, como el Lago Titicaca, los parques nacionales Amboró, Noel Kempff y Kaa Iya, los pueblos de Samaipata y Buenavista, las Misiones Jesuiticas, y otros tours interesantes como la Ruta del Che y la Ruta de Evo Morales.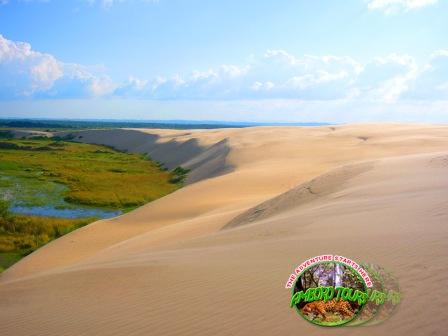 Adicionalmente ofrece opciones de turismo rural, tours a la medida, tours de los ríos amazónicos en embarcaciones, y tours especiales para personas discapacitadas.
Ofrecemos también tours hechos a la medida del visitante. Estos tours pueden ser una combinación de destinos o pueden también adaptarse a una combinación de itinerarios para que el paquete resulte ser lo que el visitante necesita, todo de acuerdo a su tiempo disponible y a sus necesidades. Generalmente los Tours a la Medida son para grupos o familias, pero Tours a la Medida también puede ser para personas solas.
BoliviaBella.com agradece a Amboro Tours por contribuir y colaborar con texto y fotografías en el diseño y desarrollo de esta sección sobre turismo en Bolivia. Conozca Bolivia con Amboro Tours. Para iniciar su recorrido por Bolivia y ver más información sobre cada destino turístico que ofrece este hermoso país, visite nuestra página de turismo.

English
Amboro Tours in Santa Cruz, Bolivia is a Bolivian tour operator that offers tours to many of the typical destinations of Bolivia such as Lake Titicaca, Amboró, Noel Kempff and Kaa Iya national parks, the towns of Samaipata and Buenavista, the Jesuit Missions, and other interesting tours such as the Che Guevara Tour and the Evo Morales Tour.
In addition, they offer options such as rural tourism, custom tours, tropical river boat tours, and, unlike other tour agency, tours for the physically challenged. Click to see some of their tours in Bolivia.

This tour operator also offers custom tours. These can include a combination of destinations or attractions and can be adapted to your itinerary, needs and wants. Generally custom tours are prepared for groups or families, but can be prepared for individuals as well. BoliviaBella.com thanks Amborotours for contributing text and photos to this section on Tourism in Bolivia.