Read these air travel tips to be sure you get the best flights and cheapest tickets.
1. Remember that the deals you get on flights are based on the number of seats available at the time you book your flight. When airlines can't fill seats, prices drop. Do a Flight Search here.
2. Book your flights as far in advance as you can, a minimum of 21 days prior. However, by booking 60-90 days in advance you can save even more! If you can plan ahead that far.
3. Last minute deals are a good deal - for the airline! Even if their prices have gone down from their initial prices they usually won't be as low as what you can get if you book way in advance.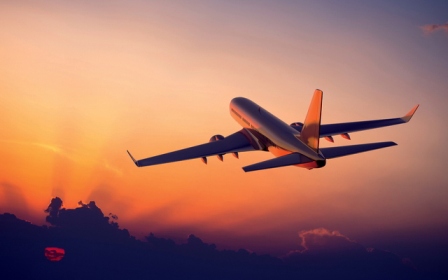 4. Fly during off-peak times of the week. Airlines have the hardest time filling their seats on Tuesdays and Wednesdays. That's when you hone in for a discount!
5. Usually airlines post new discounted prices on Monday mornings. By the evening, and Tuesday morning, other airlines are working hard to match those discounts. So Tuesday morning is one of the best times to book a great deal.


6. An exception to point 5 may be really large cities. Big cities get a LOT of business travelers. So you may not find great Tuesday or Wednesday discounts on flights to and from really big cities because airlines have so many business passengers flying to these cities on weekdays that they don't need to offer discounts. In the case of big cities, your best bet for discounts may be weekends.
7. If you fly during the week and not on a weekend, you may have a more pleasant experience at the airport. Air terminals tend to be way more crowded on weekends.
8. A travel tip I use myself a LOT is "take the red-eye!" You can get the best prices on really early morning (dawn) flights and really late evening flights. Even on holidays you can get better prices if you take the "unpopular" flights (and great sunrise photos).
9. Direct non-stop flights usually cost more than flights with one or more stops. Not all flights with stops require you to change planes and in most cases you can check your luggage all the way through to your final destination at your point of origin (some exceptions apply for international flights). But you'll get a better price because airlines know that's an inconvenience to you. Also there is the chance your luggage will get lost or delayed when it changes planes. Airlines know that.
10. Stand-by isn't always bad. If you have the time to chance it this almost always works with late afternoon and evening flights pretty well: you see when you purchase an evening flight chances are it cost you less than a day flight. BUT find out the times earlier flights leave. Go and ask the counter personnel to put you on the stand-by list for one of those. If a seat on an earlier flight opens up, you'll have gotten a peak-hour flight at an off-peak price! Added bonus: during day flights, when business travelers fly, sometimes a cancellation will happen in first class or business class.
11. Stand-by is not a good idea if you're traveling with kids. If there are several cancellations, chances are the seats won't be together. Flight attendance often do ask other passengers if they'd be willing to change seats, but they often aren't. (By the way if you travel often, travel stand-by, or travel with children, Priority Pass
is a great idea).


13. If your flights are late or if the airlines inconvenience you in any other way, let them know you expect something in return! Most airlines have great customer service rules (although it often doesn't seem like it) and airlines would much rather give you vouchers or discounts than leave you unsatisfied and mad. So don't be mean or rude, but do be persistent and firm. After all, you are paying for their services. Letting you on their planes is not a favor they are doing you. See information for Bolivia air travelers.
13. If you book your flight online through one of the many well-known travel sites, you'll almost always get a better deal if you book a flight+hotel or a flight+hotel+car or other package deals they offer. We've got the Latest Offers from some of the major travel booking sites here.
14. Travel lightly. Risk living a few days without your curling iron, computer, 12 pairs of shoes and other heavy stuff. Mix and match your wardrobe so you can use the same pieces several times. In general, travel lightly and avoid paying excess luggage fees. Besides, the less luggage you take, the less you risk losing.
15. Many people rack up miles and points when they fly and then never use them because they can't find a convenient time or way to use them before they expire! There's one site where you can buy, trade, share, or redeem them so you get the most out of your points and miles. Manage all your rewards programs in one place. In short, you should make use of all the tools available to travelers. Today, there are a lot of them! So use them to your advantage.
Got better ideas? Share your own air travel tips and Bolivia travel tips.